Bulk containers for bulk cargo
05.02.2022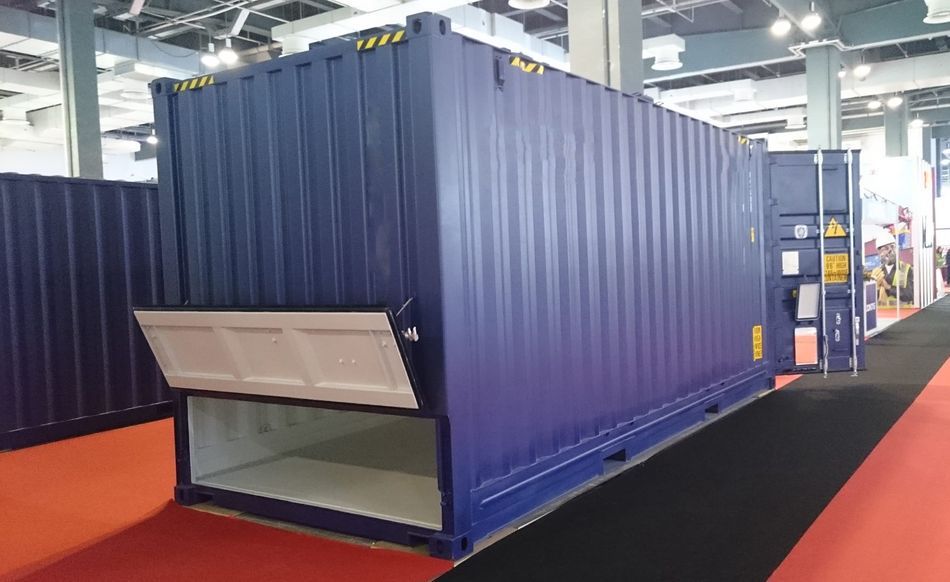 Similar containers are in demand in order to carry out the transportation of bulk cargo. With the help of such containers, you can carry out the transportation of grain, sand, as well as many other bulk materials with great convenience. If necessary, blocks can be used to deliver general cargo.
Containers can be transported by car, train or ship. The design features of the containers make it possible to dispense with additional packaging. The containers have openings that allow loading and unloading using the bulk method. Of the advantages, the highest tightness should be highlighted.
Features of a design
The block container is made of a welded framework of the highest quality. As for the floor, it is made of plywood. On the front wall there is a convenient unloading hatch that allows you to conveniently unload bulk material. There is a swing door on the back wall - it is possible to install a seal on it. There are models that have a blind lining located right in place of the door. Loading occurs with the help of hatches, which are located on the roof of the container.
Loading and unloading hatches
There are hatches on top of the container through which you can load.
From the bottom of the end doors there are hatches that will greatly speed up the loading, because the cargo will be spilled. If necessary, the system can be supplemented with a special pneumatic device, thanks to which compressed air will flow into the bulk carrier. This technology has shown its best side. They make it possible to significantly reduce the time required for unloading. You can do without manual labor. The beams of the container have kerchiefs-chippers, which allow to reduce the residues during unloading.
To ensure high-quality sealing, there are special rubber seals around the perimeter of hatches and doors. Thanks to them, the sashes firmly adhere to the metal. Thus, a truly excellent tightness is achieved, as well as absolutely silent closing.
Bulk containers have excellent insulation against dust as well as moisture. You can use the container at a temperature range of -50 - +70 degrees Celsius. Containers can be used to transport goods throughout Russia. In addition, they are great for international shipments.
Manufacturers of beam containers have paid great attention to the high quality of the locks, making them really reliable. The containers have a high-quality lock, which guarantees 100% safety of the goods that are inside the container. In addition, there is ventilation, as well as pneumatic devices that allow loading and unloading bulk materials. It should be noted that in blocks above 1 meter it is possible to use a ladder, which significantly speeds up all the work being done. Container modules are a dry container category, which means that they can be used to transport piece goods that are in the package.
Dimensions
The parameters are fully comparable with 1CC 20-foot containers:
External dimensions are 6058x2438x2591 mm;
Internal dimensions are 5934x2258x2340 mm;
The volume is 33 cubic meters. m;
The doorway is 2335x2292 mm;
The maximum weight of the cargo is 2450 kg;
Gross is 24000 kg;
The carrying capacity is 21550 kg.
Demanded containers
There are many reasons why people need to use block containers. Here are some of them:
High demand for export cargo, and the owners do not have personal terminals;
There is additional power that can be very much in demand;
Small degree of loading;
The requirements regarding the delivery of bulk cargo have increased;
Use of mobile technologies in order to reduce financial costs.
Block containers make it possible to significantly speed up all the work that is associated with loading and unloading. Thanks to these containers, you can quickly carry out delivery to where you need it. As far as maintenance of containers is concerned, it does not differ at all from conventional models:
Timely diagnosis of damage;
Replacement of parts that are subject to wear;
Diagnostic inspection of mechanisms;
Washing and disinfection of containers.
There is one more point to which attention should be paid. It should be noted that containers are not capital construction objects that are used only at a particular site. Some models can be attributed to temporary structures. They have certain properties:
The object allows to provide the infrastructure of camps for temporary deployment;
Design feature - collapsible;
The structure can move;
You can use the module for as long as you need;
During installation and dismantling, all characteristics of the object will remain at the original level.