Avoid Potential Problems When Reusing Shipping Containers – 5 Things to Inspect
05.04.2022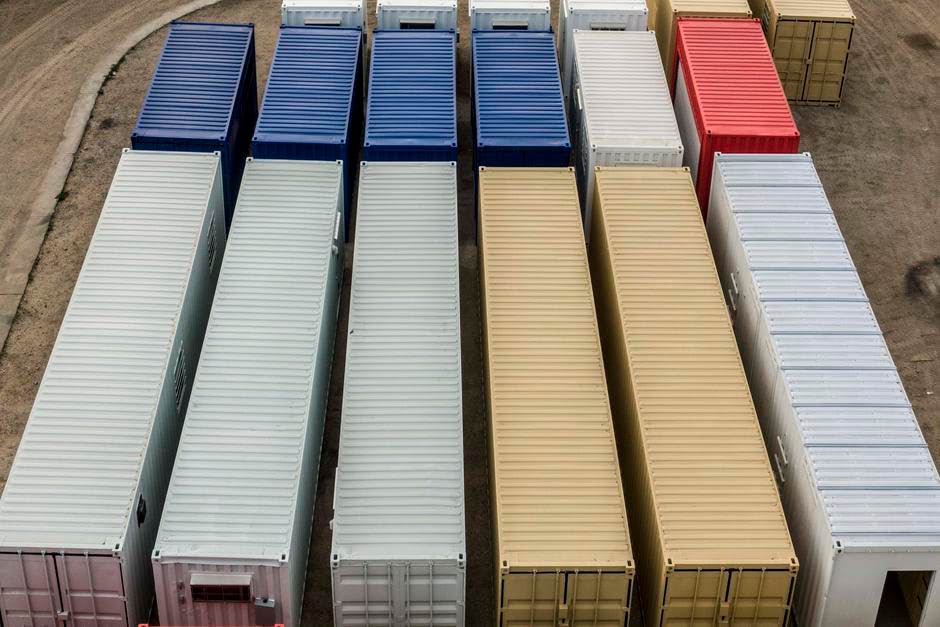 Shipping container structures are created from Conex boxes that have been used to transport goods across the ocean. Some containers spend many years in transit all over the world. After shipping companies sell excess boxes, whoever purchases them and plans on reusing the shipping containers should carefully inspect the units. Before anyone considers transforming a shipping container into storage, workspace, industrial space, or living space, they should inspect five important elements of the container.
Rest assured, here at Container-Trade we inspect each and every container that arrives at our facility. Because we modify such a large quantity of containers, we prioritize keeping high-quality stock, which means we must catch any potential issues before we accept a container into our inventory.
Based on nearly two decades of container modification experience, we know that potential problems when reusing shipping containers can be easily avoided when you inspect dents, rust, weather damage, latches, and the roof and floor.
1. Dents and Dings
Because all shipping containers have been used to ship cargo at least once, most have a few dents and dings. When it comes to reusing shipping containers, many boxes are still completely functional, but some dents can compromise the safety of the unit, even with modifications.
First, we recommend checking if any dents impact the structural integrity of the box itself. Second, we note if these dents penetrate the wall or frame of the container – we turn away these boxes. Ultimately, it's important to assess the impact of any dents and dings on the intended design. Common dents and dings are normally only an aesthetic concern since containers are highly resilient.
2. Rust
Containers are made from a material known as "weathering" steel. This material is designed to keep rust on the outside surface to protect against deeper rust penetration, so a small sign of rust shouldn't be a major cause for worry. While the rust can help protect the container, some organizations still prefer a newer-looking container. In these instances, we recommend removing surface rust and then painting the container with industrial-grade paint, restoring the container to a fresh appearance.
When reusing shipping containers for living or working applications, it's best to apply a fresh coat of paint. Not only does this make the transformed unit look great, but it protects the container from future harm caused by the elements.
3. Wind and Water
One of the great benefits of using a shipping container for your functional space is its wind and water resistance – allowing you to safely store valuable items as well as work or live inside the container without risk of water entering the space.
It's important to inspect the box for deep rust spots, punctures, or other areas which may allow water to penetrate the container. In our evaluation processes, these signs immediately alert us to reject the container.
4. Doors and Latch Gear
If your project requires operable cargo doors – in some cases the cargo doors are permanently welded shut – we look closely for damage to the doors themselves along with any damage to the latch gear. The latch gear is the cam and lock system that runs vertically along the doors to keep them securely closed – important to the security of the container itself.
The cargo doors also have a rubber gasket that seals them when closed. This is one of the earliest points of failure on older containers. Container-Trade inspects this seal to ensure it is still in proper working order.
5. Roof and Floors
A shipping container's roof and walls are constructed of the same corten steel, although, the roof has a very slight bow to help rainfall roll off the sides. If the roof has any significant dents or dips, it could create the opportunity for the water to pool. Over enough time, this water could cause rust to penetrate through the roof of the container.
It's important to inspect the wood floors inside containers for any rotting areas. For some applications, additional flooring such as vinyl or epoxy overlay can add visual appeal as well as additional durability to the container floor – especially for high traffic containers such as living or workspaces.
Reusing Shipping Containers, the Right Way
As with anything you may be able to buy on the internet, we want to caution you when purchasing a container that has not been inspected by someone with container experience. Often, you'll only be shown an example of what you'll receive. If you buy sight unseen and are unhappy with your container, you'll be responsible for shipping costs to return it – if return is even an option. Simply because a container is marked "cargo worthy" for carrying goods on an ocean liner, it still may not fit your needs.
While there are many things to consider before beginning your shipping container project, we understand that the quality and security of the space are of utmost importance. Container-Trade inspects each and every container that arrives at our facility and we work with companies in many industries – oil and gas, aerospace, construction, and more – to create safe, sleek, and useful spaces.