The original solution: build a house out of shipping containers
21.09.2016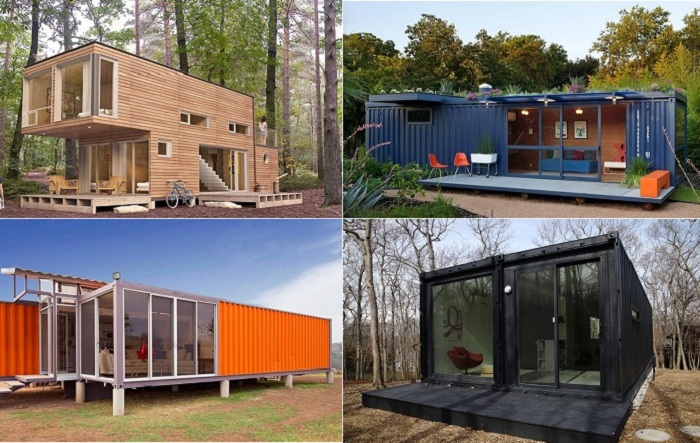 Construction of the country house - work long and incredibly expensive. Today, with the rapid growth of competition on the Ukrainian and world markets, entrepreneurs are trying to solve this problem finding new and original approaches to business. And the scope of the construction - is no exception.
Recently popular (especially abroad) became the building of houses of marine konteynerov.Takoy housing option is an alternative to traditional apartments and holiday homes.

The advantages of building houses from container
Shipping containers - design a unique and versatile. They are practical, functional, durable. Affordable and spacious in size, these facilities are perfect for the construction of town houses.

A striking example of such a non-traditional and unique approach to the creation of a living space is a small budget hotel in the heart of the Malaysian capital Kuala Lumpur. Two of the eleven guest rooms made of sea 20-foot containers. They have all the necessities of life: electricity, bathroom, telephone, air conditioning, Internet access, etc. By their comfort such unusual Any Room "containers" in no way inferior to traditional options..

The idea of ​​the construction of houses of large size containers is not only interesting, but also very profitable. To date, the Ukrainian market of business activity of this kind has no analogues and competitors. And it could be adopted.

What are the main advantages of using shipping containers to build houses in the Ukraine? Are there disadvantages to this business idea? Let's deal together.

Advantage number 1. Innovation and creativity
Accommodation of large containers to Odessa and other Ukrainian cities is a gimmick. Buildings made of wood, brick, concrete panels and other building materials are many, but of the containers, but also tastefully decorated - units.

Advantage number 2. Minimum initial investments
Buying sea containers from Odessa will cost several times cheaper than buying the necessary materials and the development of real estate development company. Firstly, the building frame of the container - more economical option than concrete blocks or bricks. Second, do not need to lay the foundation for the heavy-duty construction of the house of container. And this is also a significant savings.

Advantage number 3. Profitability and competitiveness
Cost of accommodation from the containers is low in comparison to other options of housing that allows the owner to set him a competitive price. However, this in no way affects the quality of living spaces. They are durable, functional, practical, aesthetic and comfortable. It will be appreciated by buyers.

Advantage number 4. Ability to use in different climatic conditions
The living quarters of the practical and versatile shipping containers. They can be used without any problem at any location, regardless of the weather and climatic conditions. Only need to take care of the thermal insulation of buildings to stay was comfortable, even in the most severe frosts.

Advantage number 5. Practicality and durability
Shipping containers are practical and durable, resistant to mechanical damage and adverse environmental effects. All these properties will possess and residential buildings of the containers. Plus, the home of the containers are resistant to various natural disasters. This provides additional security policies for buildings of this type.

As you can see, the benefits of using shipping containers as a framework for the construction of many houses. It will be appreciated by consumers of different age groups.

Where to buy shipping containers in Ukraine?
If you want to buy shipping containers in Odessa, Kharkov, Kiev or other Ukrainian cities, the company «ContainerTrade» at your service! In our directory assortment of refrigerated and dry cargo product variants width up to 2.5 meters. Orders are accepted on any day of the week. Deliveries can be made to all cities of Ukraine.

Cooperate with us is not only easy, but also profitable. We are waiting for your calls and orders!