Modern multimodal equipment - marine containers
11.02.2018
Every year, the demand for one of the types of transit, which is used by transport logistics, is increasing. This popular form is called container transportation. Transportation of goods by containers immersed on a sea ship, trailer, train or plane is gaining momentum and is becoming more common among small and medium-sized businesses.
Modern multimodal equipment is also called ISO-standardized containers. The ISO standard was put into use in the 1970s and these norms are still used today.
This is a very convenient type of transportation, and it has a number of advantages:
It is easier to load and unload the goods, because there is no need to move the contents of the container from one container to another.
Loading and unloading works became mechanized, thanks to the use of special equipment. The use of gantry cranes, lifts and loaders (reachstacks) reduced the ship's idle time in the port.
There is a possibility of combined (multimodal) transportation - transshipment of the container from one type of transport to another along with the products inside.
The seal delivered at the customs office is preserved, which is the guarantee of cargo security.
A guarantee of cargo safety is the system of fastenings inside the structure, which allows securely fixing the goods in the container.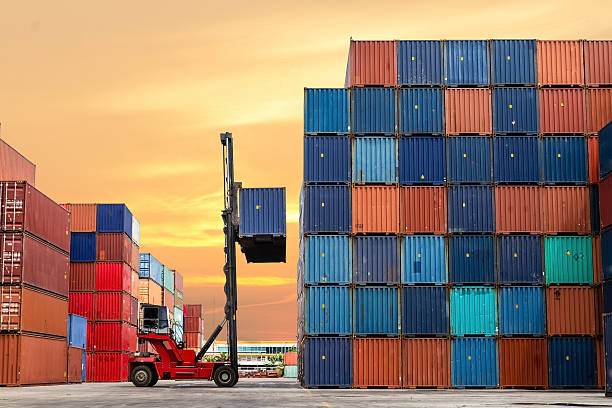 Containers are convenient containers for moving any product in the packaging and without it, the goods on pallets, liquid and dangerous substances, bulk cargo, heavy equipment and industrial equipment.
The only drawback of storage and transportation in dry cargo containers is the appearance of condensate on the goods. But with a competent approach and this unpleasant phenomenon can be avoided. Do not transport perishable products or liquids in container structures without the availability of specialized equipment. It is necessary to choose the type of container, relying on the characteristics of the cargo. For example, freezing should be transported in a refrigerated container, coffee beans in a vented container, liquefied gas in a special tank tank, and loose cargo in a container with a removable roof.
Container ship, a special sea vessel, transports containers in holds and on deck, stacking cargo structures in 5-7 tiers, depending on the dimensions of the vessel.
In addition to standard 20, 40-foot dry cargo containers and refrigerated structures, special containers are also used in transportation. These are special-purpose containers designed for transportation and storage of goods of a certain type. This specific container equipment is designed for a specific cargo and has its own individual definition:
grain containers (open top);
tank containers or tanks;
prefabricated tanks;
technical design;
Flat Rack or platform construction.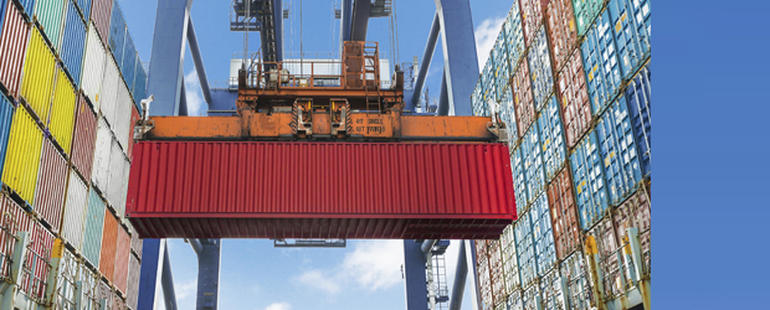 Each enterprise that manufactures products or deals with its sale takes care of the safety of the goods during transportation. The above containers are the best way to save cargo, because a wooden or metal frame will protect it from external unfavorable factors. For example, a container for cereals involves installing a ventilation system and sealed tanks inside the packaging to ensure that the product does not lose the integrity of the grains and their density.
There are unconditional advantages in using multimodal equipment:
1. When transporting, the full safety of the cargo inside the container is observed.
2. If you want to buy or rent a container, its price will not be high.
3. A container, even the smallest (10 tons), is still a very capacious container and a large number of products can fit into such a container.
4. A wide range of containers will allow you to choose the type and tonnage for your product.
5. Already upon arrival at the place of destination, the cargo can be stored in a container for a long time before the need to unload it.
Among the directions of the company
Container-Trade - the sale of containers, the purchase of containers from entrepreneurs and individuals, the lease of sea containers, the rental of refrigerators, subsequent work with intermodal equipment, including their maintenance. We are an active Ukrainian enterprise that has trade container parks throughout Ukraine. We are considered leaders in our industry and continue to develop dynamically in these areas. Also you can buy a container in our online store container-trade.net. Individual approach and personal discounts to each customer allow to increase the flow of customers and make communication and cooperation mutually beneficial. The specialists of the company in a telephone mode or at a personal meeting will advise you on all the issues of interest. The seller will choose the best option, from the display of containers in stock and ending with the delivery of the structure to the address you specify.
If you decide to buy a sea container, we are ready to make an offer on all its types and tonnage. In addition, you can model yourself a transport unit. Our specialists will perform any modification of the container capacity on request. For example, a container of 20 or 40 feet, we can modify in accordance with your requirements and wishes.
Containers available for sale undergo a thorough check for subsequent operation. We hasten to assure you that the equipment purchased in our outlets is professionally and fully ready for use. The presented structures are hermetically integral, without corrosion, rust stains and dents. If for some reason the container you purchased from us did not come up to, or it did not meet your expectations, we undertake to return or replace such equipment for another in terms agreed with the customer.